Our Veterinarians
When a family member is under the weather or suffering from discomfort, he deserves the attention of a caring, competent physician with the skills to diagnose his ailment and the compassion to treat him with tenderness.
At Marbletown Animal Hospital, an expert staff of veterinarian doctors and a skilled team of technicians are here to do just that. Under the directorship of our highly skilled veterinary doctors, your pet is always in good hands. We're ready when your pet needs us.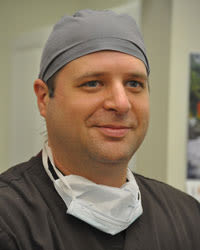 Dr. Matt Dulka,
Medical Director
For as long as he can remember, Dr. Dulka knew he wanted to work with animals. He grew up down the street in Stone Ridge, where science and nature where always on his mind.
In 1999, Dr. Dulka got his opportunity to put those ideas into action when he started as a veterinary assistant. He worked at animal hospitals in both Ulster county and Manhattan until heading to Ross University School of Veterinary Medicine in 2007. It is there he met his wife, also a veterinarian, Dr. Sara Martens-Dulka. After graduating Ross in 2011, he headed to work at a rural mixed animal practice in Otsego County.
In 2014, Dr. Dulka moved back to his hometown and joined the team at Marbletown Animal Hospital. His professional interests include surgery and internal medicine, but his true passion is dental health and pain management.
The Dulkas share their home with their dog, Worf, and five amazing cats. When not in the office, Dr. Dulka enjoys gardening and landscaping. You can often find him running and hiking up at Mohonk in search of bears and other wild critters.
"Our mission at Marbletown Animal Hospital is to provide your pet with the highest quality, pain free life. It is our honor to serve the community and share the love that only an animal can provide."
Dr. Jesse Page,
Associate Veterinarian
Dr. Page became interested in veterinary medicine after starting to work at a veterinary hospital in Dutchess County in 2003. She grew up with a variety of different pets and livestock, and was active in 4-H. After working as a veterinary assistant and then as a veterinary technician for several years, she decided to further her education and become a veterinarian.
Dr. Page has a special interest in internal medicine, feline medicine, and pain management. After looking into alternate options for pain management for one of her patients, she became interested in the field of acupuncture and became certified in veterinary medical acupuncture in 2015. She has been fortunate to treat patients with a variety of conditions, and enjoys seeing them respond to the treatment. Planning acupuncture treatments has also inspired her to maximize patient comfort and minimize fear, creating as positive an environment as possible while pets are at the hospital.
Dr. Page has been part of the Marbletown Animal Hospital team since 2013. She firstly attended SUNY Delhi, then Cornell University (where she graduated with a Bachelor's degree in animal sciences), and finally the veterinary school at Purdue University (Boiler Up!).
When Dr. Page isn't treating her patients, she can be found enjoying the beautiful Hudson Valley, reading, and hanging out with her cat, Gavin. He has accompanied her through many years of school and is highly educated himself.
"I believe that pets are truly part of the family, and deserve the best care we can provide."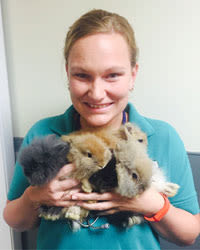 Dr. Joan Gramazio,
Associate Veterinarian
Dr. Gramazio knew that she wanted to become a veterinarian at a young age. She loves being a veterinarian because of the great benefit of being able to promote health and welfare for animals and the general public. Being a veterinarian also allows her to constantly keep learning new skills in small, large, and exotic animals, and furthers her passion for the field of helping animals.
Dr. Gramazio's passions specifically lie in working with exotic animals. She has been caring and treating exotic animals, pocket pets, the avian species, small animals, and farm animals since 2013. Though she still enjoys working with small animals, her favorite animal to care for is pigs.
Dr. Gramazio joins Marbletown Animal Hospital from Monroe, NY. She worked with animals at Monroe Animal Hospital for twenty years. Her first job was working as a kennel assistant, then veterinary technician, and eventually practicing medicine. After receiving her undergraduate degree in A.S.S in Veterinary Technology from SUNY Delhi and a B.S. in Biology from SUNY Albany, Dr. Gramazio received her Doctor of Veterinary Medicine degree from Ross University School of Veterinary Medicine. While attending her last year of veterinary school at University of Missouri College of Veterinary Medicine, she worked with production swine and cattle through veterinary externships. Upon graduating veterinary school in 2013, she has worked with public services such as volunteering her skills and care to local humane societies, animal sanctuaries, animal rescues, and the Morris Animal Foundation. She attends annual conferences to better her education in small and exotic medicine.
When Dr. Gramazio isn't treating her patients, she can be found spending time with her four rescues Chuck, Devo, Boo, and Bella. A fun fact about Dr. Gramazio is that she loves rebuilding her 1971 Plymouth, oil painting/drawing, refurbishing antiques, traveling, and raising money by running 5k races.
"Veterinary medicine is about making a difference in the lives of animals and people through education and medicine."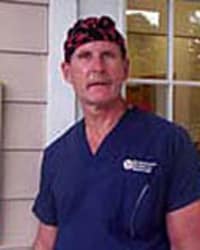 Dr. John Parks,
Board Certified Specialty Surgeon
I am a board certified surgeon; Diplomate in the College of Veterinary Surgeons. Since the beginning of my surgical career, I have been performing traditional soft tissue, thoracic abdominal, orthopedic and neurological surgical procedures. In addition, I now offer endoscopic procedures: thoracoscopic, laparoscopic, cystoscopic,and rhinoscopy.
Dr. Parks performs specialty surgeries in our hospital on a referral basis. He is not an on staff veterinarian.