Our Team
Marbletown Animal Hospital's experienced support staff of Client Care Specialists, Certified Veterinary Technicians, Animal Health Technicians, and Animal Care Assistants strive to provide personalized, compassionate care for our patients and clients alike.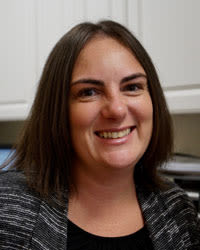 Stephanie Petruccelli,
Hospital Administrator
As our Hospital Manager since 2016, Stephanie lives to make everyone's lives easier, from our clients to our staff. Stephanie has worked with animals and the people who love them since she was a teenager. In an effort to improve the human-animal bond, Stephanie is a certified Fear Free Professional and working towards her Human Animal Bond Certification. Stephanie loves all pets, but she has a soft spot when special need pets come to visit (in honor of her one-eyed Chihuahua Bug!). In her free time, Stephanie enjoys outings with her husband Al and their three children, going to the beach, and spending time with her fur family: Fiona, Slinky, Bug, Joey, and Carrot. We are so lucky to have Stephanie as our team leader!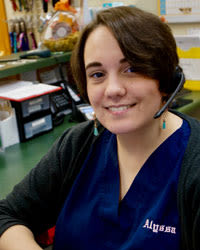 Alyssa Wagner
Alyssa has been working as the receptionist at Marbletown Animal Hospital since June 2015. She currently resides in Highland, NY, and has long loved animals. As an adolescent, she helped trap kittens and cats with animal rescue teams that were visiting the area where she had grown up. When not working, she is usually at home playing with her two cats, crocheting, or attending various events of interest such as the Renaissance Faire. She loves to meet new pet owners and help educate them about their pets!
Licensed Veterinary Technicians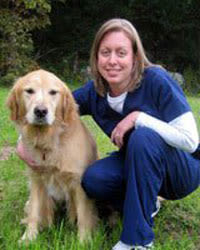 Kelly Phillips, LVT
Kelly has been a licensed veterinary technician at Marbletown Animal Hospital since 2007. She finds working with animals and their people an absolute privilege. She is experienced in many aspects of veterinary medicine including wellness care, anesthetic procedures, and emergency and critical care. When not at work, she enjoys spending time with her husband, two boys, and all of their pets including three dogs, a cat, a guinea pig and a bearded dragon.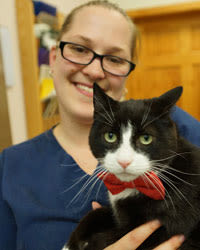 Laurie Nocerino, LVT
Laurie is a licensed veterinary technician at Marbletown Animal Hospital. Laurie graduated SUNY Delhi with an Associate's Degree in Veterinary Technology and a Bachelor's degree in Veterinary Management before starting her career at Marbletown Animal Hospital in 2011. Laurie holds a strong interest in small animal dentistry and animal behavior. She holds all patients close to her heart; however, she labels herself as a cat person. In her free time, Laurie enjoys bonding with and training her cats who are also affectionately labeled as her "boys." She takes pride in successfully teaching her cats different tricks and commands that they have mastered with as much ease as a dog would learn as part of their puppy training.

Chrissi Jones, LVT
Previously working per diem since 2015, Chrissi joined the Marbletown Animal Hospital family full-time in 2017 and is one of our licensed veterinary technicians. Chrissi enjoys all of our visiting patients, but is most excited to work with felines, pocket pets, and exotics. Chrissi strives to make our patients feel at ease during their appointments. In her free time, she enjoys playing video games, movies, crocheting, crafting, and spending time with her wife and their many cats.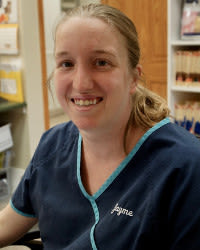 Jayme Staten
Jayme loves working with all of our patients, but the sassy Chihuahuas are her favorite! As one Marbletown Animal Hospital's Veterinary Assistants since 2012, Jayme has a special interest in animal behavior and is a certified Fear-Free Professional. Jayme and her husband live in Accord, and enjoy spending time outside hiking and gardening in their free time. She has three cats, three dogs, and a flock of chickens.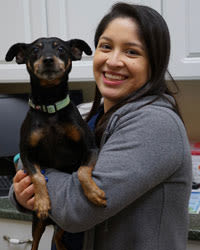 Sara Narvaez
Sara is one of our Veterinary Assistants and had graduated from SUNY Ulster in 2016 with her Associate's degree in Veterinary Technology. Inspired by her pets' veterinarians as a child, she saw herself working with animals. Her love and passion for them is what makes her job not just a job but a calling. Sara's future plans include specializing in animal surgery and radiography. In her free time, she enjoys hiking with Caesar, her Mini-Pin, shopping and traveling throughout the country. She currently resides in the Hudson valley with her boyfriend Harold.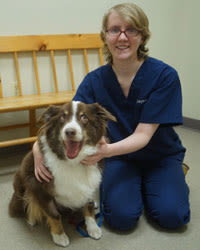 Cheyenne Schoonmaker
Cheyenne Schoonmaker started as a kennel assistant in August of 2016 at Marbletown Animal Hospital. As an assistant, she works flexibly to help doctors with appointments and technicians with patient care. While she adores working with animals both large and small, her passion rests with our more exotic patients. During her downtime, Cheyenne enjoys sketching and spending time alongside Sera, her fat-tailed gecko.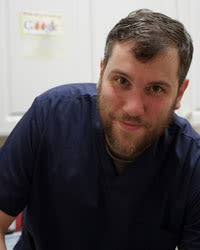 Dan Howard
Dan is currently a SUNY Ulster student on his way to finishing his degree in Veterinary Technology. After years working on both U.S. and international farms with a variety of animals ranging from cats and dogs to llamas and emus, Dan settled in Stone Ridge to work at Marbletown Animal Hospital. When he's not assisting the veterinarians with your animal's care, he is tending to his garden and his chickens or playing with his three cats.